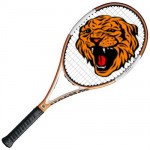 The Fremont Tigers Boy's Tennis Team ended their season at the State Tournament on Friday with 14 points to place 10th overall.
At No. 1 singles, Zach Weaver started off well with a 6-0, 6-0 win over Justin Asuncion of Omaha North. Weaver then lost to Tyler Mercier of Omaha Westside 6-1, 6-2.
Jack Larsen and Alec Richards also won their first match in No. 2 doubles, defeating Sean Clerc and Charles Balston of Bellevue East 6-0, 6-1. In their second match, they fell to Zach Northey and Tom Tipton of Lincoln East 6-2, 6-2.
The doubles team of Tyler Ketchem and Scott Speicher made it through two rounds, defeating Thomas Harris and Austin Braun of Bellevue East 6-1, 6-2, and John Gill and Jacob Slabaugh of Omaha Burke 6-2, 6-3. They lost their 3rd match to Greg Beaufait and Ethan Gart of Omaha Creighton Prep 6-1, 6-3.
Spencer Brown won over Mathias Godsil of Papillion-La Vista South 6-7(2-7), 6-3, 6-4 in his opener at No. 2 singles, and then lost to Lance Kush of Grand Island 6-0, 6-0 in the 2nd round.
Seven seniors competed on the team this year as the top seven players. Head coach Justin Bigsby was quoted in the Fremont Tribune (Fri. Oct 17, 2008) "On the one hand, you have a ton of experience and maturity, but in the back of your mind you keep thinking that at the end of the season you're going to lose a great group of guys. This has been one of my most enjoyable seasons as a coach, and it's largely due to this senior group. It's a State tournament I won't forget, and definitely a team that I won't forget."
Congratulations Tigers on a good season.