Posted on
April 24th, 2009
by Dana Mark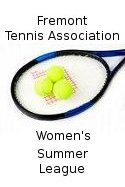 The Women's 2009 Summer Tennis Leagues are now forming. An entry form is available at
Women's Summer League entry form.
There are two women's league opportunities. Both are played as doubles teams on a rotating partners basis. One league will be played Tuesday mornings at 8:45 a.m. and the other on Thursday evenings at 7:00 p.m. League play begins May 19 for the Tuesday a.m. league, and May 21 for the Thursday p.m. league.
See more information and a printable entry form at Women's 2009 Summer League.