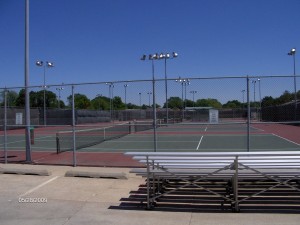 The Fremont City Council members approved using Keno funds to resurface 12 tennis courts at the Fremont High School Tennis Complex at their regular meeting Tuesday night, May 26, 2009. More than $23,000 will be made available for the resurfacing project.
The resurfacing project will cost just over $47,000. The other half of the cost will come from Fremont Public Schools and the Fremont Tennis Association. Over time, outdoor courts naturally erode and deteriorate requiring periodic resurfacing.
The courts have held up very well over the last 17 years. Eight of the 12 courts were resurfaced 14 years ago, and the other four are newer and have never been resurfaced. It is suggested that these types of courts be resurfaced every 10 to 12 years, so ours are due.
The FHS complex gets a lot of use during the outdoor season with the Fremont Tennis Association, Parks and Recreation, Fremont Family YMCA, Fremont Public Schools, Trinity Lutheran, Midland Lutheran College and the general public all using the courts.
Fremont is fortunate to have such a great tennis complex available, one of the largest public tennis facilities in the Midwest that does not charge players a fee for court time.
At last report, the resurfacing project is tentatively scheduled for sometime in July. Watch for updates on the project here.
Did you realize that our modest $10.00 adult fee ($20.00 family fee) to join the Fremont Tennis Association helps with projects such as this upcoming resurfacing project? If you have not yet joined this year, consider joining now. You may join the FTA using the Men's Summer League entry form.