Posted on
May 7th, 2009
by Dana Mark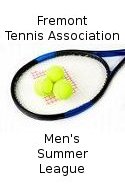 The men's Summer outdoor league has begun. We had a practice night last Wednesday, May 6, 2009. So now we need all tennis players to come for the official start next Wednesday, May 13, at the Fremont High School Tennis Complex.
Singles play for all levels begins at 6:00 p.m. The doubles matches get underway about 7:30 p.m. You may play doubles with a partner of your choice, or be teamed up with a partner each night.
Come one. Come all! The more the merrier. Get some exercise and have some fun with your tennis friends each Wednesday! Don't let yourself go through the Summer, and then think, "I wish I would have played on the tennis leagues this Summer." Come next Wednesday evening and we'll help you avoid that devastating regret which you could have if you don't come to league play!