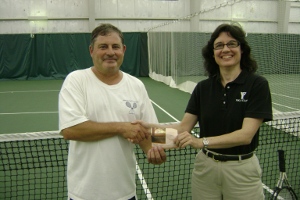 Mike Willman, president of the Fremont Tennis Association, presents Diana Myers, representing the Fremont Family YMCA, with a check for $700 to purchase equipment for the YMCA's new QuickStart Junior Tennis Program. The funds were used to purchase small portable nets, junior racquets of various sizes, and foam and low compression tennis balls. This new program for youth ages 3-10 years old is being implemented this session for the YMCA's junior tennis classes.
For those unfamiliar with the program, QuickStart Tennis is an exciting new play format for learning tennis, designed to bring kids into the game by utilizing specialized equipment, shorter court dimensions and modified scoring, all tailored to age and size. For more information, go to QuickStart.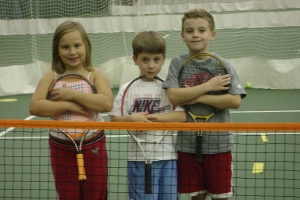 A few QuickStarters with their racquets standing at the QuickStart portable net.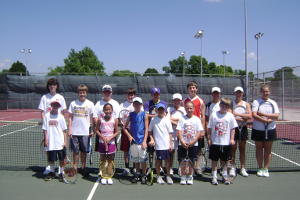 Summer Junior Tennis players – some future US Open champions?