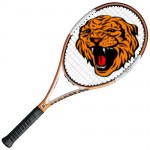 The tennis season has ended for the Fremont High School Boys Tennis Team. The last tournament was the State Tournament held Thursday, October 15, 2009, at the Koch Family Tennis Center in Omaha. It was a tough tournament for the Tigers, but both doubles teams had a win.
Juniors Brady Zoucha and Alex Hamilton won their first match at No. 1 Doubles. The first set was close and went to a tie-break which they won 7-4. The 2nd set went much better for Brady and Alex and they closed out the match 7-6(4), 6-2. They lost their 2nd match 1-6, 1-6.
Senior George Hartmann and sophomore Torrey Escamilla won their first match easily at 6-0, 6-1, then were defeated 1-6, 2-5.
For more of the High School results throughout the season, go to the FHS tab at the top or on the right.
Coach Justin Bigsby said he was pleased with the Tiger's performance this season. They will have most of their players back next season. We wish them good luck.
Tournament Results:
In singles play:
No. 1 – Jimmy Young lost 6-0, 6-1 to Ryan Fehr of Columbus.
No. 2 – Mac Richards lost 6-0, 6-0 to Kyle Jaggers of Lincoln Southeast.
In doubles play:
No. 1 – Brady Zoucha and Alex Hamilton

won 7-6(4), 6-2 over Eric Busskohl and Cody Schantz of Norfolk.
lost 6-1, 6-1 to Aaron Placzek and Ke Arkfeld of Omaha Westside.

No. 2 – George Hartmann and Torrey Escamilla

won 6-0, 6-1 over Chase White and Zach Spence of Lincoln High.
lost 6-1, 7-5 to Max Cuppens and Matt Strasburger of Lincoln Southeast.