Posted on
November 3rd, 2009
by Dana Mark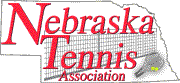 The 28th Annual Nebraska District Hall of Fame Awards Banquet was held at Beacon Hills in Lincoln, NE on November 1, 2009. Rick Boucher of Lincoln served as Master of Ceremonies.

Following the banquet meal, Wayne Bryan was the keynote speaker. Wayne heads up KIDS DAYS for the ATP in America. He also does "on court interviews," intros, tennis clinics, television commentary, and other emcee work for the ATP Tour and the Outback Champion Series. Wayne shared his idea that we need to incorporate more doubles play into the training of our young players. He stated that they would be having more fun playing doubles, and having fun is what tennis is all about. He thinks if our young people were having more fun playing tennis, more would stick to it and enjoy tennis all their lives. That gives us something to think about.
Wayne is the father of the now famous Bryan Brothers, twin sons who have won 55 doubles titles including a career Grand Slam. They were ranked World No. 1 in 2003, 2005, 2006, 2007, and are currently ranked No. 1.
Following the keynote address, two people were inducted into the Nebraska Tennis Hall of Fame, Jane Hines of Omaha, and Curt Smith of Lincoln.
Jane Hines' tennis resume includes playing, teaching, coaching, administrating, fundraising and promoting tennis. She was just elected president of the Nebraska Tennis Association. She was a scholarship athlete in both tennis and basketball at the University of Hawaii, named the Most Inspirational Athlete in 1977 and 1979 and was awarded the UH Jack Bonham Award (Athlete of the Year) in 1979. Jane won two NE State Championships and three Metro Championships (#1 Doubles with Lori Kochen Mueller) while competing for Burke High School. She is currently the Director of Marketing for The Tennis Club and Indoor Soccer Center in Omaha.
Curt Smith has been associated with tennis in the Lincoln area since he moved there in 1969. His involvement early on was recreational and competing in local tournaments. Then as USTA play began, Curt's involvement increased. He was one of the area's verifiers until the rating system became self-sufficient. Between tournaments, Curt captains USTA teams in adult, senior, super senior and mixed doubles.
Three Junior players were given Player of the Year awards.
Brooke Urzendowski, a Marian High School Junior complied a 53-2 record at # 1 singles, helping her team to undefeated seasons in 2008 and 2009 and winning the Metro and State Class A Championships. Brooke is currently ranked #4 in MV Girls 16′s. She is a two time Nebraska Girls Player of the Year.
Jack Sock, a Lincoln native and a Junior in High School, trains in Kansas City where he is the undefeated Kansas Class 6A State High School Champion. He has already won 17 Gold Balls, each one representing a USTA National Championship. He recently made it to the third round of the US Open Junior Boys Championships, losing to the #1 seed in singles and reaching the semi-finals of the doubles. He is ranked #1 nationally in the Boys 18s.
Jackson Withrow is a three time state high school Class A champion at #1 singles and ranked #3 nationally in the boys 16s. He has 16 first place finishes over the last two years in USTA Missouri Valley tournaments, finished 2nd in the national clay courts this summer, and made it to the semifinals of the national championships in Kalamazoo, Michigan. The Lincoln Journal Star calls Withrow "arguably the best high school player in Nebraska history."
It is great to be able to claim from Nebraska the #4 ranked girl in MV Girls 16s, the #1 nationally ranked boy in Boys 18s, and the #3 nationally ranked boy in in Boys 16s. Tennis is alive and well in Nebraska!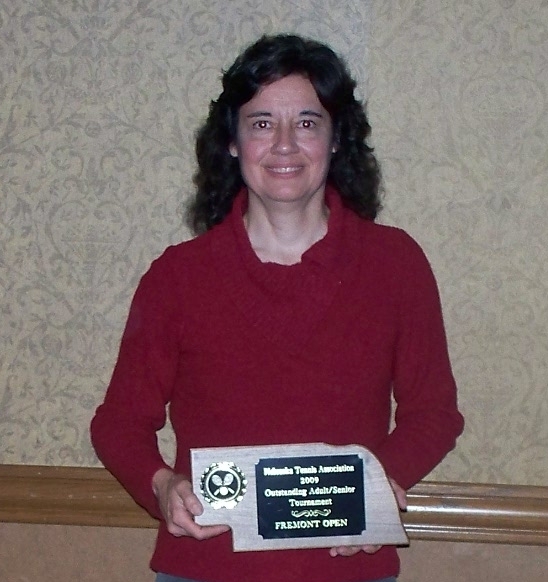 Many other awards were given, including two awards to the Fremont Tennis Association. Here we see Diana Meyers with her award for Outstanding Adult Tournament – Fremont Open. The Fremont Tournament registration was up 25% from last year boasting 129 players from Nebraska, Iowa, Kansas and California. The tournament drew praise from the players and spectators alike with on-schedule matches and some light concessions available. With a full feed consolation everyone got to play a lot of matches. Thanks to Diana Myers and Justin Bigsby for again hosting a great tournament.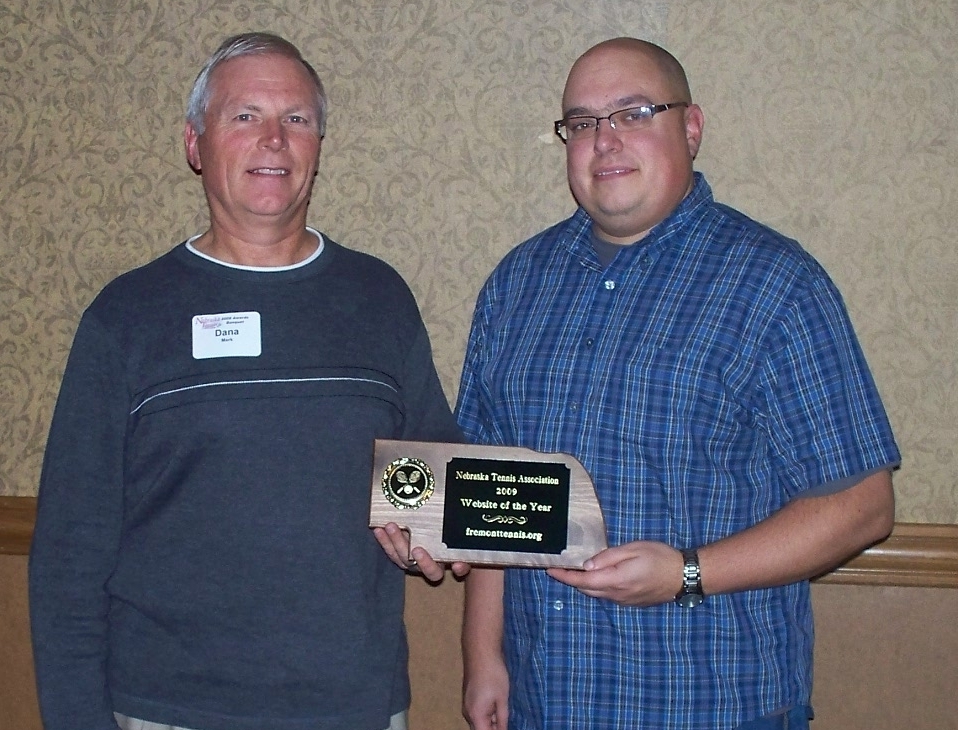 Brian Mark and Dana Mark are shown here with the award for Website of the Year – www.fremonttennis.org. The official site of the Fremont Tennis Association was established in June, 2008. The site has many features to keep players up to date on tennis news, events and tournaments, including Fremont High School and Midland College team results, along with lesson and league information, upcoming events, podcasts to improve your game and links to other tennis associations. Anyone can subscribe by entering their email address and then they will automatically receive email notification of all new posts on the site and reminders the day before the registration deadline for Nebraska tournaments along with a link to the tournament on TennisLink. Brian is the brains behind the site, developing and hosting it. Dana does the posting of articles and information.
There was a full table of Fremont representatives at the banquet, including Mike Willman, president of the FTA, Neil Schilke, Royal Hunt, and Jim Johnson, all three NTA Hall of Famers, Diana Myers, Associate Executive Director of the Fremont Family YMCA, Brian Mark, Renate Mark, and Dana Mark. Thanks to all for representing the FTA.
The 2010 Hall of Fame Awards Banquet will be held in Omaha. In 2011, Fremont will host the event.