Posted on
October 16th, 2010
by Dana Mark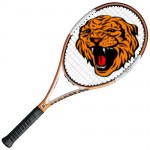 Fremont High School's No. 1 doubles team of Brady Zoucha and Torrey Escamilla and No. 2 singles player Luke Prescott won their opening tennis matches at the Class A state tennis meet Thursday.
Zoucha and Escamilla, the 10th seed, defeated Nicholas VanHaute and Joshua Gardner of Omaha Bryan 6-4, 6-0 in their first match, and then lost to the seventh seeded team of Eric Busskohl and Cody Schantz of Norfolk 2-6, 6-3, 6-3.
Prescott opened his state competition with a 6-4, 6-0 win over Trevor Flemming of Lincoln Northeast. He then lost to Michael Knudsen of Millar North 6-2, 6-2.
Luke Samuelson played at No. 1 singles for the Tigers. He lost to Seb Gardejford of Grand Island 6-0, 6-0 in the opening round.
At No. 2 doubles Kiefer Wilson and Mac Richards dropped their first-round match 6-3, 6-2 to Joseph Beeson and Andrew Fehr of Millard West.