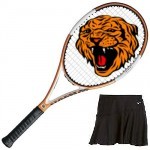 The Fremont girls tennis team lost to Columbus Tuesday, April 19, at the Fremont Family YMCA by a score of 6-3.
The Columbus Discoverers won four of the six singles matches and two of the three doubles matches. Erin Eairleywine and Bailey Stewart picked up the singles wins for the Tigers. Eairleywine defeated Kelcey Robak 8-6 at No. 4 singles, and Stewart was an 8-5 winner over Brianna Ritter at No. 6 singles. Cathrine Booth and Carly Gross had the only win in doubles play, 8-4 over Kelcey Robak and Staci Barton at No. 2 doubles.
On Monday, April 18, the Fremont Tigers had a close win over Lincoln Northeast 5-4. The dual was tied 4-4 when Sydney Robertson and Lindsay Strong battled back at No. 1 doubles for a 9-8 (8-6) victory to seal the win.
Robertson was also a winner at No. 1 singles, winning 8-2 over Latalie Serel. Amy Ahrens and Erin Eairleywine also picked up wins in singles play. Ahrens won 8-2 over McKenzie Ferguson at No. 3 singles, and Eairleywine was an 8-2 winner over Jadeyn Palmer-Hahn at No. 4 singles. Ahrens and Eairleywine teamed up for an 8-5 win at No. 3 doubles.
The Fremont Jr. Varsity team defeated Lincoln Northeast 8-1 and remains undefeated this season.