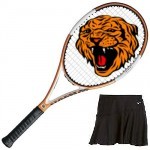 The Girls State Tennis Tournament was held Thursday and Fremont High picked up two wins.
Erin Eairleywine won at very tight match at No. 2 singles in the first round over No. 12 seed Gretchen Pille of Papillion-LaVista South, 3-6, 6-4, 7-6(7-5). She then lost to Saki Aota of Lincoln Southwest 6-1, 6-0 in the second round.
Catherine Booth and Bailey Stewart were easy winners in their No. 2 doubles first round match over Samantha Kasun and Jaclyn Rentschler of Omaha North, 6-0, 6-0. Then lost their second round match to 2nd seeded Regina Beller and Kara Schuele of Omaha Marian 6-0, 6-0.
At No. 1 singles, Fremont's Amy Ahrens lost 7-5, 6-0 to Eve Dimagno of Lincoln High in the opening round. Sydney Robertson and Lindsay Strong lost 6-0, 6-0 at No. 1 doubles to Danielle Kostal and Kari Nelson of Lincoln Southeast in the first round.
Omaha Marian won the State meet with 36 points. Fremont ended the tournament with 4 points.