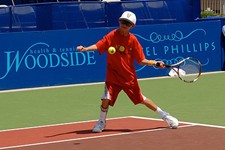 Fremont tennis player, Wyatt Spalding, is featured on the USTA web site highlighting Adaptive Tennis. Wyatt is the son of Rick and Mary Jo Spalding of Fremont.
Adaptive Tennis is for people with special circumstances or disabilities. The benefits are of Adaptive Tennis are as follows:
Tennis is for everyone and the game of tennis can be adapted to accommodate any age, environment, condition, or disability.
Tennis is fun.
Tennis provides a venue for positive social interaction.
Tennis participation enhances self-esteem and self-confidence.
Tennis is good exercise and improves overall fitness.
Tennis improves flexibility, strength and weight control.
Tennis helps develop eye-hand coordination and body control.
Tennis can be played for a lifetime.
Congratulations to Wyatt Spalding for his achievements on the tennis court, and as a model for Adaptive Tennis for the USTA.
For more information, go to Adaptive Tennis