Posted on
March 2nd, 2012
by Dana Mark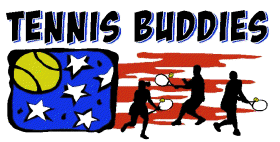 A new tennis program will be starting up soon for the Fremont area called Tennis Buddies. It is a program growing out of Fremont Special Olympics USTA Adaptive Tennis.
Instruction and play will being on Sunday, March 18th from 4-5 p.m. at the Fremont Family YMCA. Play will be Sundays 4-5 p.m. from March 18th through May 13th. All ages are welcome.
Tennis Buddies supplements tennis opportunities provided to athletes via Special Olympics Nebraska. The program is FREE of charge and coaches and instructors are ALL volunteers. Rackets and balls will be provided. Tennis / gym shoes must be worn to play.
Tennis Buddies will get you exercise and other benefits! AND you will learn how to play tennis!!!! If you have any further questions, please contact: Rick Spalding at 420.720.8284 or Dian Christensen Hillis at 402.720.1334. You may also learn more at the Tennis Buddies Rock home page or the Fremont Tennis Buddies web page.
The Tennis Buddies program is looking for helpers. If you are interested, check out the Fremont Tennis Buddy Guide