Posted on
April 11th, 2013
by Dana Mark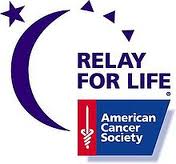 The Fremont area tennis community has put together a Relay for Life team, called Grand Slam Against Cancer in support of tennis players who have been affected by cancer. The captains of the team are trying to get some participants from the local tennis community together to do the walk, donate, buy luminaria, etc.
The Dodge County area Relay For Life in which this team is participating is scheduled for Friday-Saturday, May 31-June 1, 7:00PM to 7:00AM at Memorial Stadium in Fremont.
Relay For Life is an annual global phenomenon in which more than 4 million people in over 20 countries take part and raise much-needed funds and awareness to save lives from cancer.
There are three highlights during the walk.

Celebrate
During a Relay event, participants and survivors celebrate what they've overcome during the Survivors Lap.
Remember
During the Luminaria Ceremony, we remember people lost to cancer, and honor people who have fought or are fighting cancer.
Fight Back
The Fight Back Ceremony inspires Relay participants to take tangible action against a disease that has taken too much.
To join this team: The Grand Slam Against Cancer team is doing the walk for all who have been affected by cancer. If you would like to join the team, click here on Grand Slam Against Cancer.
If you have any questions, feel free to contact Sandy Shafersman, one of the captains of the team, or to learn more about Relay for Life, click here on Relay For Life.