Posted on
June 11th, 2013
by Dana Mark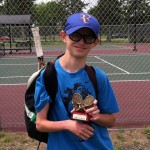 Wyatt Spalding is shown sporting his trophy from the rain drenched/delayed/interrupted Columbus Summer Open Tournament June 8-9, 2013.
No matches could be played outdoors on Saturday. Some were played on two indoor courts at the Columbus YMCA and one match played at the Fremont YMCA. Sunday was cool and cloudy but left-over matches from Saturday were finished and all the Sunday matches got finished. Thanks to Roland Augspurger and Curtis Goebel for hosting the tournament.
Results from Fremont players who entered:
Wyatt Spalding of Fremont earned 2nd place. He was defeated in the final match, 6-1, 6-0 by Ronald Bender of Grand Island.
Mike Willman teamed up with Roland Augspurger (Columbus) in the Men's Open Doubles. They defeated Rich Prochaska and Max Prochaska of Ralston in round one, and Curtis Goebel (Columbus) and Thomas Huffman (Omaha) in the final round 7-6, 6-1 for the championship.
Brian and Renate Mark teamed up in the 8.0 mixed doubles. They defeated Ronald Bender and Jessica Bender of Grand Island 6-0, 6-1 in the semifinals, then lost 6-4, 6-1 to Barry Dahlkoetter (Omaha) and Jan Moore (Columbus) in the final. There is some debate on how the final might have turned out if Brian had not sprained his ankle in the first match.
Dana Mark played the 3.5 singles event. He defeated Michael Martin of Marquette 2-6, 7-5, 7-6 (10-7) in round robin play. In the final round, he defeated Daniel Stack of Columbus 6-2, 6-1 for the championship.
Congrats to the winners from Fremont. See you at the Fremont Open!