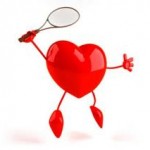 Cardio Tennis Classes are being offered at the Fremont Family YMCA beginning the first week in November. There are various 6-week sessions for youth through adults.
Cardio Tennis is a fun group activity featuring drills to give players of all abilities an ultimate, high-energy workout!
The classes are led by Kerri Pentel, a certified tennis teaching professional and a former Division 1 tennis player.
Classes are offered as follows:
Youth (8 Yr & Older) – Tuesdays 5:00-6:00 pm, Nov. 6 – Dec. 10, 2013. Cost: $30 Y members; $48 non-members.
High School – Thursdays 6:15-7:15 pm. Nov. 7 – Dec. 19, 2013. Cost: $30 Y members; $48 non-members.
Adult – Wednesdays 6:30-7:30 pm Nov. 6 – Dec. 18, 2013. Cost: $36 Y members; $60 non-members.
There are no classes Nov. 27 or Nov. 28 due to Thanksgiving.
Register now for any of these classes at the Y front des!