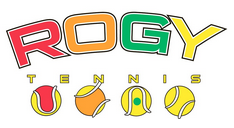 A ROGY kids tennis event for kids aged 6-10 has been scheduled at the Fremont High School tennis courts for Sunday, April 13th. Play will be indoors at the YMCA in case of inclement weather. See below for a description of ROGY tennis. The skill level is for entry level to intermediate.
Registration is online only, and the registration deadline is Wednesday, April 9, 2014. Click here – ROGY Tennis Event to register or for more information.
Entrants must comply with ROGY Rules and Regulations. Click here – ROGY Rules and Regulations for a more complete listing.
ROGY stands for the color of ball that is used, Red, Orange, Green, or Yellow, with each being a progressively more advanced level.
10 and Under ROGY Entry Level Guidelines.
Red Ball: At least 6 years of age; no older than 8.
Orange: At least 7 years of age; no older than 10.
Green: AT least 8 and have earned 10 credits in orange or appear on the green grandfather list; no older than 10 years of age.
If your children are interested, register them now. Spread the word to others you know who might be interested.